About
The Machine in the Garden is an independent gothic/darkwave duo featuring Roger Fracé and Summer Bowman. Since their formation in the early 1990s, Roger and Summer have developed and advanced their unique style through years of collaborating and intertwining their musical tastes. The band has developed their own unique style and released eight full-length albums and one EP.
Recent News
Now Available: Places in Between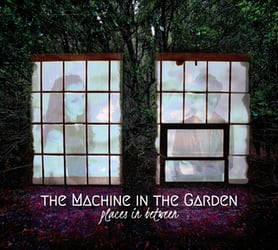 the Machine in the Garden's ninth studio album and our first in nine years, Places in Between, is now available for digital download on our Bandcamp page. We are also accepting pre-orders for the physical CD and various combos including a CD with a t-shirt and/or a handwritten lyrics sheet.
Thirteen new songs explore the variety of styles—from goth rock to electronic ethereal—the band is known for.
Musically, Places in Between draws from the band's own unique musical past. Roger describes the sound as "the electronics and looping structure of Shadow Puppets, the darkness of Asphodel, and epic elements of Before and After the Storm. I wasn't trying to emulate anyone or anything else; I just constructed what felt natural. It's different and should feel new yet familiar to our fans."
Like previous works, the themes explored by the lyrics are wide-ranging and include references from mythology of world cultures (like in "A Thousand Years of War" and "Prophetic Bird"), themes from popular culture ("Courage, Power, and Wisdom") as well as references to current events and challenges we face in the world ("Broken Days" and "Resist"). No matter the topic, Bowman's lyrics and vocal delivery are full of emotion and depth and her voice shines through clear and full in every track.
For the audio nerds: 24-bit files were uploaded exclusively to Bandcamp, so for the best quality choose a lossless file format for download.
Live Shows
No live shows are scheduled at this time.
Interested in booking the Machine in the Garden? Please contact us.